I'm still trying to figure out Instagram, but I do know what a LaterGram is — and this is the blog version!
2017 has been busy so far. I've been on the go, go, go, and every time I stop, I drop. Honestly, I've been sick off and on since the end of January. Thankfully, I rallied long enough to take a quick trip to New Orleans in February sponsored by Zatarain's, the New Orleans company famous for its rice mixes, Creole spices, and other delectables.
This was my first press trip ever and I felt super lucky to be included among a lovely bunch of food writers and editors who learned how to "Celebrate Mardi Gras Like a Local."  The organizers did such a good job that by day 2, I was fantasizing about moving my family down to The Big Easy. My husband has yet to get on board with the plan, so if I have to go alone, I might just move into The Ponchartrain Hotel. I love old hotels with charm, and this place has it.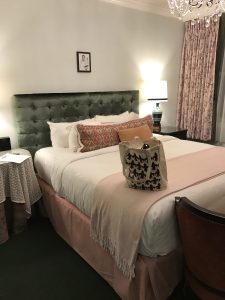 Supposedly Tennessee Williams wrote A Streetcar Named Desire while staying at the Ponchartrain. I kept meaning to ask the folks at the front desk which room Williams' stayed in, but I never did, which allowed me to pretend that I was staying in THE room, which might feel creepy to some, but as a writer, the fantasy worked for me.
Day 1 in NOLA
We got a look at the Zatarian's test kitchen.  Poppy Tooker, effervescent host of the NPR affiliate program Louisiana Eats! showed us how to fix jambalaya from scratch, and the folks from Delish Magazine actually filmed it all for Facebook Live. You can check out the video for yourself here. Meanwhile, Zatarain's Director of Food Service, Dudley Passman, cooked up a second batch of jambalaya using the company's boxed mix. Both versions of the rice dish were yummy (I'd make Poppy's for a party and Dudley's for a quick weeknight meal.) The  Zatarain's folks also stuffed us full of Dirty Rice Boudin Balls and an incredible bread pudding with root beer sauce that turned out to be my favorite food of the entire trip. I got a picture of the boudin ball display but not the pudding; the pudding I simply inhaled.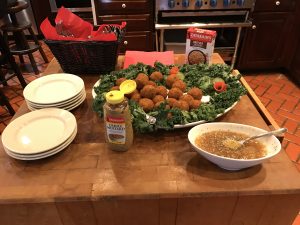 Zatarain's brand ambassador, Claude Davis, also passed around some biscuit samples from the company's new line of mixes, and we got a taste of their new hot sauce as well. I was really glad I wore a loose tunic and stretchy leggings that day.
Here's the box of goodies Zatarain's sent me after I got home, so I wouldn't have to load down my suitcase. Yum!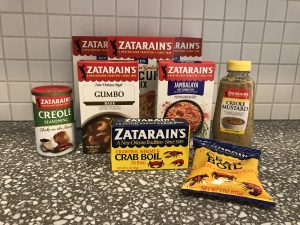 I followed that ginormous lunch with a detour into the French Quarter for Pat O'Brien's hurricane. I wrote all about that in a travel essay for The Kitchn, if you want to check it out.
I had to hustle back tipsy from Pat O's to catch my ride to the Zatarain's crawfish boil that evening, held at what might be New Orleans' most beautiful home. I snapped a picture of the sunset as we were heading into the party, still dreaming about moving there.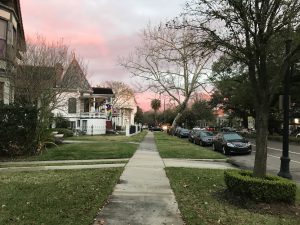 Claude from Zatarain's boiled up a crazy amount of shrimp and crawfish for us. Poppy hilariously explained that she didn't think sucking the tails was ladylike, and demonstrated how to dig one dainty finger into the shell. Not being an enthusiastic seafood eater, I concentrated on the spicy sausage and potatoes that came out of the pot and left the sucking and digging to my new friends.
Another bright spot of this lovely evening: live New Orleans music. The string band brought back memories of listening to my great grandfather playing the fiddle back in Arkansas when I was just a tiny thing.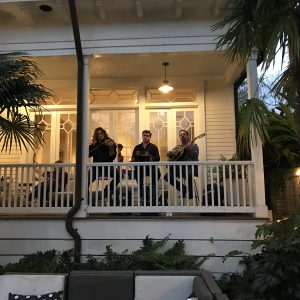 I heard that after the writers left, the musicians finished up the rest of the crawfish, and nary a tail was wasted.
NOLA Day 2
I woke up early to sneak in a breakfast with my friend, fellow writer and adoptive mom Sarah Netter, a New Yorker turned New Orleans local. She very kindly swung by the hotel and picked me up for a visit to District Donuts on Magazine Street, where the pastries are calorie-laden works of art.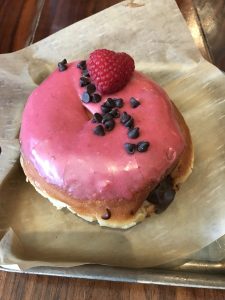 This beauty was pink on the outside, chocolate on the inside, and big as a baby's head.
Sarah and I snapped a quick selfie,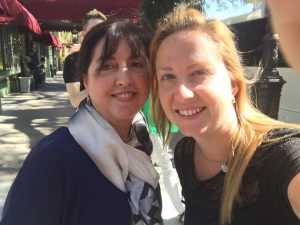 then she was off to work and I was off with the group on a walking tour of the Oretha Castle Haley neighborhood, a hot new food corridor. First we visited Roux Carre', an outdoor food court and business incubator for future restaurateurs, where the tasty samples came at us fast and furious, but the Jerk chicken with a Nola twist from Johnny's Jamaican Grill might have been my favorite, though the pupusas from The Pupusa Lady were a close second.  I made a mental note that when I come back to New Orleans with my family, we need to eat here, where each family member can choose their food counter, just like at the mall, but tastier.
Cafe Reconcile was our next stop, where Chef Joe treated us to decadent deep-fried turkey necks with maple glaze. That might sound disgusting, and it might not look great in the picture, but this thing tasted like a rich meat doughnut — pretty much my second doughnut of the day, if you're keeping track.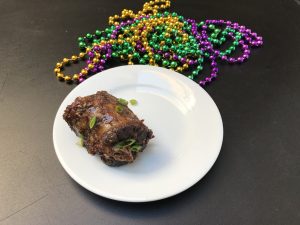 Chef Joe also spoke passionately about Cafe Reconcile's mission to change the lives of young adults in the community. The restaurant offers life skills and job training to at-risk youth who intern at the cafe. Knowing that money spent here goes to a good cause almost makes eating a deep fried meat doughnut a guilt-free experience.
Our walking tour continued with stops at the Southern Food and Beverage Museum and Culinary Library and finally, lunch at Toups South, owned by James Beard award winner Isaac Toups. I don't know how I squeezed in any more food, except it was MY JOB.
I spent the afternoon in a food coma.
Throw me something, mister!
That night, my last in New Orleans, it was parade time! The fun was happening right outside the hotel on St. Charles Avenue. The Zatarain's folks did not want us to go hungry (!!!) so they served up fried chicken, fried pickles, potato salad, king cake and libations right there on the "neutral ground side" AKA the avenue's median. We had the perfect view of the celebration!
We watched the Krewe of Druids parade, which was pretty good if you don't mind men in creepy masks, but the real fun for me was watching the Mystic Krewe of Nyx parade roll by.  "Krewes" are social organizations, and Nyx, dedicated to the Greek goddess of the night, is an all-female group that embraces women from all backgrounds.
The Nix floats were fantastic, and the goodies rained down with violence. Claude from Zatarain's stood next to me and kept me from getting knocked out by Mardi Gras beads. He caught almost everything and handed the treasure off to me…but at the Nyx parade, special hand-decorated purses are the coveted throws. I got incredibly lucky at the end of the night when a purse pretty much landed at my feet. Claude's wife looked a little wistful, so I tried to give it to her, but it a show of Southern grace, she encouraged me to keep it. Having won the parade lottery, I said my  good nights and started back to the hotel.
"Put the purse away while you're walking," Claude's wife advised. "Someone WILL take it from you."
I made it safely to my room with all the swag. I want to go back next year — if I haven't already moved there!