I've got a fun giveaway for you all, just in time for Mother's Day!
YOU MADE ME A MOTHER is a heartwarming picture book written by my friend Laurenne Sala, with illustrations by Robin Preiss Glasser, whose work you might recognize from the popular FANCY NANCY series.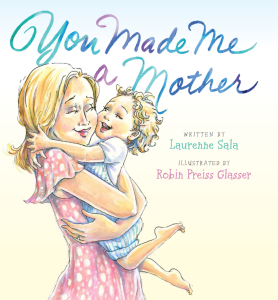 This book would be a sweet Mother's Day present for a new mom and makes a great baby shower gift. (But keep in mind that since the book deals with pregnancy, it's not really a fit for adoptive parents.)
To enter, please answer the following question in the comments:
What's your favorite children's picture book of all time and why?
To earn additional contest entries, you can:
1. Sign up for updates from my website by clicking "Get updates" button on the menu bar, or let me know if you signed up previously. This delivers my blog posts to your inbox. I won't share your email address with anyone else. Please comment to let me know you signed up!
2. Follow me on Twitter @sharonvanepps and tweet about this giveaway: Win a copy of YOU MADE ME A MOTHER by @laurenne published by @HarperCollins Enter at http://sharonvanepps.com/this-is-not-my-beautiful-life/ #Giveaway #ChildrensBooks
3. Like my Facebook page at Sharon Van Epps, Writer (or let me know if we're already connected there)
4. Blog about the giveaway or post on your Facebook page, and link back here. Be sure to post your blog entry before you comment.
Please leave a separate comment for each of the above shares, to be sure I correctly record and credit all your entries!
We've got a quick turnaround, so don't wait! Entries close Tuesday, May 9, at midnight PST. The winner will be announced Wednesday May 10, by 9 am PST, and Laurenne will hustle to get the book shipped to you by Mother's Day!
Next week I'll also share the inside scoop on Laurenne's path to publication, so if you're an aspiring or working writer, check back on May 10 to hear the inspiring story of how she became a Harper Collins author.