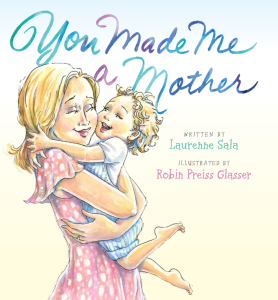 I'm SUPER excited to announce the winner of the YOU MADE ME A MOTHER giveaway:
RUTH EBENSTEIN
Congratulations, Ruth! Please shoot me an email via the online contact form here on the site and include your address. If you reply today, I'll do my best to get an autographed copy to you in time for Mother's Day!
Full disclosure: Ruth is a friend, but her entry was chosen using the random number service random.org. If you didn't win this time, I'm sorry! Still, I've got a treat for you all in the form of an interview with the author of YOU MADE ME A MOTHER, Laurenne Sala, that aspiring writers in particular may find interesting…
How an Unpublished Memoirist Became a Big Time Children's Book Author
Laurenne Sala, 35, founded an LA stage show where people reveal their most taboo secrets, wrote scripts for Funny or Die, and conquered the advertising world, but her dreams of publishing a book went unfulfilled, until an unexpected break made her an author.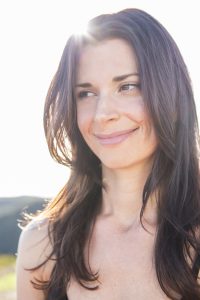 "I don't do things half-assed. Ever," my friend Laurenne Sala says. "I always tried to write with my heart and give it my all, and then I was finally noticed. I see success happen to everyone who does not give up! "
A little background: Laurenne grew up a child of divorce outside Chicago. At 10, she discovered her funny, caring dad was gay, but at 15, she lost him to suicide, a pain that stayed buried for years.
She left home to study communications at the University of Southern California. Next, she pursued a Masters in Advertising Copywriting at Miami Ad School. Then she had to move back in with her mom for awhile.
"I worked on my portfolio day in and day out," she remembers. "I told myself that I wouldn't shave my legs or armpits until I got a job. It took three months!"
Her first gig was writing commercials for Jack in the Box at a small ad agency. "The agency was great. They taught me the ropes. But my very first day at the office, I remember thinking that I had to write a book. I didn't think I could swing a cubicle job for that long."
With her ad career launched, Laurenne enrolled in an adult writing class at night, where she finally opened up about her father's death. The relief she felt in sharing her story with her classmates led to the creation of Taboo Tales, a Los Angeles-based storytelling show with the motto THE MORE WE ALL TALK ABOUT HOW FUCKED UP WE ARE, THE MORE NORMAL WE ALL FEEL. She found more success writing for Funny or Die, but a memoir about her father's death felt closest to her heart.
I should tell you that Laurenne and I became friends because of that memoir. We met a few years ago at the SDSU Writers Conference at the memoir table at the networking lunch.
"One thing I loved about the memoir was that the first half was told from my father's point of view. I wrote the other half as if I was my mom," she says.
Although I remember Laurenne getting positive comments about the book from publishing professionals at the SDSU Conference, her manuscript garnered more than 60 rejections from literary agents. She opted to put the memoir aside for awhile and carried on with her ad career and Taboo Tales. She also kept trying to publish short pieces, and landed an essay about her dad's death in the anthology DANCING AT THE SHAME PROM, published by Seal Press in 2012.
Despite her intense literary aspirations, Laurenne never dreamed of writing a children's book. Here's how it happened.
She first created the text of YOU MADE ME A MOTHER as promotional copy for Boba, makers of baby wraps and carriers. At the time, Laurenne was single and childless, yet she clearly captured some new mom emotions, because when Boba made a tear-jerker of a video from her writing, it went viral.
After that came the big shock: HarperCollins called! The publishing giant offered to pair her up with popular illustrator Robin Preiss Glasser, of bestselling FANCY NANCY fame, to ensure the book's success. YOU MADE ME A MOTHER won rave reviews and sold out on Amazon within 24 hours of its debut last year.
"The cool thing about YOU MADE ME A MOTHER is that it's truly a mixture of everything I've done in my career," says Sala. "It began as an ad! And it makes people cry! I've always wanted to write something that makes people feel."
Today Laurenne is having all the fun reading her book to kids and encouraging them to share their feelings too. A sequel, YOU MADE ME A FATHER, will publish in time for Father's Day 2018 (though you can get a sneak peek here in the video Boba has already made.)
"I struck while the iron was still hot with Harper," she recalls.  "As soon as we had the mom book contract in the works, I sent the dad book manuscript! I figured I'd do that while they were still into me! It worked, and they bought it
within 2 weeks
."
In other joyful news, Laurenne got married last year, not long after her book was published, and she's expecting a baby girl this fall!! Her memoir remains on hold for now, but she's got a new project in the works called The Grief Collective, a collection of data, experiences, and stories that all involve losing a parent.
"Anyone who has grieved the loss of a parent can join here: https://goo.gl/forms/lZQroqCawWLUE20F3," Laurenne explains. "You can sign up to answer one question a month, which helps me compare experiences and see what we all have in common when it comes to grieving."
I can't wait to see where this project goes!