Ok, I promised to share some tips for finding a literary agent and negotiating the query process, but I've decided to break things up into manageable chunks, since I do tend to go on…First up, how do you identify  agents that you should query?
Choosing the right targets is key; you can have the best memoir query ever written, even the best memoir itself, but if you query an agent who's interested in prescriptive nonfiction and cookbooks, you'll be rejected or  ignored, which also feels bad. Let's try to limit how much rejection we have to absorb, shall we? Here's how to find your marks.
Check the acknowledgements sections of books similar to yours
Most writers will thank their agent in the acknowledgements. For example, if you're looking to turn your blog into a book, check out titles written by top bloggers to find those names. Chances are you'll have some books similar to yours in your personal collection already, but you can also visit your local bookstore or library to take notes, or use Amazon's "Look Inside" feature. I did all of the above.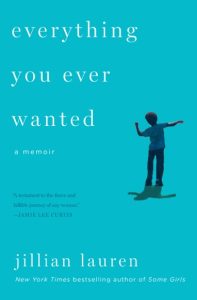 I queried Jillian Lauren's agent because she wrote a memoir related to international adoption, which is similar in some ways to my memoir. Also, Jillian Lauren is awesome. Her agent sent me a polite form rejection.
Find out who represents writers you admire
Often we have something in common with the writers we love: an obsession with a topic,  aspects of style, or a certain sensibility. Agents who rep your favorite writers can be good, if somewhat lofty, targets for you — but hey, shoot for the moon!
Case in point: Ruth Ozeki. She is a GENIUS. I am not. Her novel A Tale For the Time Being is one of the best books I've ever read (and was shortlisted for the Booker Prize!) I'm not in her league — but I might find things in common with other readers who love her work —  like her agent!
I queried Ruth Ozeki's agent, who seemed like a good match not only because of her literary sensibility, but also because my research revealed her to be a mother by adoption like me, (something in common!) Ruth's agent sent me a chatty and personal rejection explaining why she couldn't take on my book right now. She's a "big" agent, and I felt encouraged that she bothered to write back at all — proof that my careful targeting was working.
BUT
don't be surprised if you find out that your favorite author's agent isn't taking on new clients. In that case, consider querying a new agent at the same agency — he or she will be familiar with your fave writer but hungry for fresh talent, and will be able to go to the senior agent for advice about your project if they agree to represent you.
Use Google and Twitter
Maybe that seems obvious, but if you're nervous about starting a search, you may forget to do the simple stuff! Be sure to employ a variety of search terms — not just "literary agent narrative nonfiction" but also "literary agenCY narrative nonfiction"  and "literary agents looking for narrative nonfiction." Also try looking simply for "literary agent" and "literary agency" and be prepared to dig into agency websites to see what genres particular agents represent.
Check out the site Manuscript Wishlist and search twitter for the #MSWL hashtag to find agents who're accepting new clients. You can add your genre to your Twitter search, for example #MSWL YA (for Young Adult) to narrow things down even more. Also search for pitch contests to discover more agents who are looking for clients. Try searching on #pitch, #pitchcontest #pitch + #agent etc
And don't forget to Google "literary agents seeking new clients." My own quick search yielded this  helpful September 2016 blogpost at "Publishing…and Other Forms of Insanity."
Peruse Reference Books and Databases
Back in the day, looking for a literary agent meant buying an expensive hardcover edition of the Writer's Digest Guide to Literary Agents or Jeff Herman's Guide to Book Publishers, Editors and Literary Agents — and you can still buy them! The problem is that books take a long time to produce, so info can get outdated even before the book hits the store, especially info about newer agents who tend to have more career fluctuation. However, Writer's Digest often offers package deals that might make the purchase worth your while. The 2017 edition of their agent guide comes with the following extras:
A one-year subscription to the literary agent content on WritersMarket.com (which might mean access to real time updates on book entries.)
The secrets of query-writing success: Learn 5 common mistakes that make an agent stop reading–and how to avoid them.
"New Agent Spotlights": Get targeted profiles of literary reps who are actively building their client lists right now.
Informative articles on writing a synopsis, pitching your work online, defining your genre, utilizing writing peers to better your craft, and much more.
Exclusive access to the webinar "10 Steps to Landing a Literary Agent" by Marisa Corvisiero of Corvisiero Literary Agency.
Writer's Digest is a tremendous resource, especially for newer writers. Even if you don't want to spring for a book, look for the magazine on the newsstand or in the library to see if they're featuring a story about an agent you're planning to query. Ever issue has good agent and query advice.
Another resource that costs some $ is Publisher's Marketplace, which I mentioned above. The fee is $25 a month, and in my opinion it's WELL WORTH IT to subscribe to the site for a few months if you're serious about your agent search and can afford it. The site has SO MANY FEATURES, like the "Who Represents" database I mentioned above. Also on PM, you can look up the self-reported sales history of an agent, and find the names of the editors  and publishing houses they've sold to. You can search agents by genre to find out who's been selling lots of mysteries or historical fiction — in fact, if your agent is top-ranked for sales in a particular genre, PM will tell you! You can also see how many clients an agent has; a big client list may mean less interest in you, newbie writer, so you can weigh your options. PM offers more features than I can list here — just go to the site and check it out! I'll be discussing more ways that I used PM in subsequent posts.
If you're a writer who leans literary,  Poets & Writers magazine has a FREE searchable database that is fantastic. The magazine also publishes an annual literary agents issue and has tons of resources on the website. I relied on the PW site heavily while looking for someone to rep my memoir.
There are lots and lots of additional databases out there, many of them free, including:
Association of Authors' Representatives — professional association for agents. FREE
Query Tracker — Allows you to find  and research agents, and organize your agent search. FREE but requires you set up an account. Video tutorials show you how to make the most of the site.
Attend a Writer's Conference
If you have the time and money to go to a writer's conference that has agents in attendance, it can be a great opportunity, especially if you have your eye on a particular professional and would like to pitch him or her in person. Most conferences sell pitch slots for an extra fee ie pitches aren't included in your registration, but if you meet an agent during lunch or in line at the bar, you may have the chance to pitch for free. Sometimes you'll meet an agent you absolutely don't click with, or you get a hurtful rejection to you your face. It might feel like a waste of $$$ and time if you paid to pitch, but consider that a dress rehearsal for the moment you have a phone call with an agent who might be the one. Also, most agents who go to conferences do so because they like talking to writers, they like hleping writers, and they'd love to discover a great project. Every encounter won't end in an offer of representation, but there's a lot of value in learning firsthand that agents are just people!
Even if you're not quite ready to pitch, or your in-person conference pitch goes nowhere, at many conferences agents and editors give presentations and join panel discussions about the business of publishing, how to query, how to write a book proposal etc. The better informed you are about the business, the better prepared you are to approach agents the way they prefer. Knowledge also empowers you to make smart decisions about your career.
Look for Agents on You Tube
If you don't have the money or time for a conference, there are webinars and online courses to take, plus a wealth of FREE information on YouTube. Search YouTube for "literary agent" and you'll get thousands of video results: panel discussions at conferences that have been taped, individual agents sharing submission tips on their own channels, query letter clinics and more! Even if your budget is tight and you live far from a major city, you can access a wealth of info and get a look at an agent before you query with just an internet connection.
Ask other writers for recommendations
Hopefully you're networking with other writers, both in person and online. Maybe some of your friends already have agents. Don't hit up ever writing aquaintance you've got for an intro, but if someone offers to make an introduction, accept —  IF YOU'RE TRULY READY. An intro may get your material read faster, but it doesn't guarantee an offer of representation. The work has to stand on its own and be a good fit for the agent's needs, interests and list. Networking is also a great way to find about agents who maybe aren't as good. It's valuable to know who doesn't answer their clients emails and phone calls because you probably don't want to work with that person.
I found my agent, Bonnie Solow, through online networking. Writers in a private Facebook group were discussing great agents, and Bonnie's name came up. Prior to that, she hadn't been on my radar, so I'm so thankful I found her!
Finally, compile your list as you go
All this research sounds like a lot of work, and it is. I recommend drafting a long list of agents, and I don't think you can just create a list like that in an afternoon. Start now,  even if you don't know when you'll be ready to approach agents. If you read a book you love, find out who agented it and write the name down. If you go to a conference, or even if you just look at a conference website but decide not to attend, make a note of the agent who caught your eye. If you read a how to article by an agent in Writer's Digest that piques your interest, write the name down now. When it comes time to send queries in earnest, you'll need to do some additional, deeper research, but at least you won't be starting from scratch.
Ok, I'll be back with more on the agent search next Friday. If you missed my previous post, On Being a Late Bloomer AKA "I finally got a literary agent" you can read it at the link.