I don't usually write a blog post when I publish something online, but thus far 2017 has been a rough one career-wise, so I'm pretty excited to get some work that I'm proud of out into the world.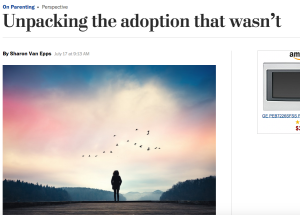 This essay, Unpacking the Adoption That Wasn't, took awhile. I wrote the first draft in an online workshop with writer Emily Rapp Black. If I remember correctly, our assignment was to write about a photograph:
She stands on the threshold of St. Theresa's Tender Loving Care Home, a 3-year-old dressed in a donated red turtleneck and matching red-and-white skirt, with the purple sneakers I bought for her at Shoppers Stop in Hyderabad strapped on her feet. It's a hot day, and she's clutching a bottle of water. The morning sun is bright, giving the photo an overexposed quality. Some ayah, one of the orphanage caregivers, has rolled her sleeves up above the elbow. Haseena's dark hair, cut pixie style, appears damp and freshly combed, hinting that I must have just arrived for my daily visit. She looks straight into the camera, her brown eyes wide, a swath of bushes and a line of coconut palms in the background. She's not smiling. I probably didn't give her time to pose.
Later, I got stuck in revision, and hired Dawn Raffel to edit the piece. It took me another year to get around to implementing Dawn's suggestions.
In the midst of my dry spell, I gave the essay a fresh edit a couple of months ago, then submitted to quite a few outlets, including The New York Times and O, where the piece garnered encouraging "try us again" rejections. I didn't have On Parenting at the top of my submission list initially, because in 2015  editor Amy Joyce ran another essay of mine that looked at my failed adoption from a completely different angle, and I feared she might view this one as a repeat. Thankfully, Amy liked the piece and gave it a home!
Click here to visit On Parenting and read the essay…