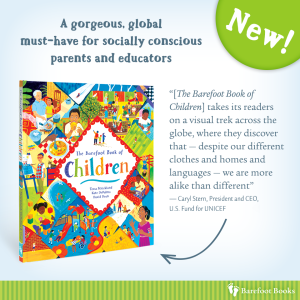 A few months ago, I published an essay in the Ties column at The New York Times called A Poster Family for Diversity. Soon after, I got an email from Nancy Traversy, Co-founder and CEO of Barefoot Books. Knowing I was interested in promoting diversity and inclusivity, Nancy asked me to help spread the word about her company's latest release, The Barefoot Book of Children. Since the world desparately needs more diverse books, I said yes — and I'm giving away a copy here on my blog!
My own kids are teenagers well past the picture book stage, but The Barefoot Book of Children is the kind of book I would have bought as a gift for their elementary classrooms as well as for our home library. The text by Tessa Strickland and Kate DePalma communicates that differences in appearance, beliefs, and lifestyles among people are interesting and positive, and the colorful illustrations by David Dean are gorgeous! Here's one of my favorite pages: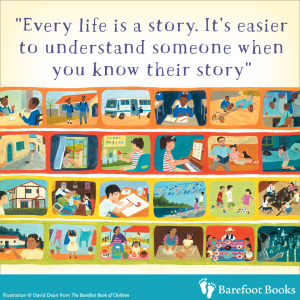 In an election season that feels especially contentious, we need to talk with our kids  more than ever about understanding and respecting others to help counteract the divisiveness and uncertainty that's in the air. This book is perfect for sparking conversations about cultural understanding, diversity, and inclusion at home and in the classroom.
Founded almost 25 years ago by two young mothers in England, Barefoot Books has published more that 600 titles for children that encourage discovery, compassion, creativity and global awareness. In fact, Barefoot's Mama Panya's Pancakes was a big storytime favorite for my kids back in the day. I'm buying a copy of The Barefoot Book of Children for my infant niece, but maybe you'll win your copy!
To enter, answer the following question in the comments:
Why do you think diverse books are important and meaningful for children?

To earn additional entries, please do the following:
Leave a separate comment for each one, to be sure I correctly record and credit all your entries!
1. Sign up for updates from my website by clicking the menu bar (or let me know if you signed up previously.) This delivers my blog posts to your inbox. I won't share your email address with anyone else.
2. Follow me on Twitter @sharonvanepps and tweet about this giveaway: "#diversebooks Giveaway-Win a copy of The Barefoot Book of Children from @BarefootBooks & @sharonvanepps Enter at https://sharonvanepps.com/this-is-not-my-beautiful-life/
3. Like my Facebook page at Sharon Van Epps, Writer (or let me know if we're already connected there)
4. Blog about the giveaway or post on your Facebook page, and link back here. Be sure to post your blog entry before you comment.
This giveaway will be closed Tuesday, September 27 at 11 p.m., and the winner will be announced Wednesday, September 28!