In my last post, I talked about how often I hear from people who feel a calling to write but don't know where or how to start. I'm sharing some of my favorite resources here on the blog. Let's take a look!
BOOKS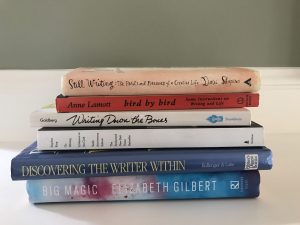 Writing Down the Bones: Freeing the Writer Within — Natalie Goldberg's Zen approach to writing stands as a classic for a reason. All you need to get started is pen, paper, and Natalie's encouragement to write anywhere, even the laundromat.
The Artist's Way — Julie Cameron's iconic guide serves beginning writers,  as well as writers who need to refresh and begin again. Cameron will have you writing three pages every morning before you know it.
Bird by Bird: Some Instructions on Writing and Life — Anne Lamott will coax you into writing a "shitty first draft." Another enduring classic.
Discovering the Writer Within: The 40-Day Writers Workshop — This practical guide by Bruce Ballenger and Barry Lane is used often in classrooms, but you can easily do these writing exercises at home. Ballenger taught at the University of New Hampshire when I was an adjunct instructor there. I stole all my classroom writing exercises from him.
On Writing: A Memoir of the Craft — Even if you're not a fan of Stephen King's fiction, check out his brilliant and inspiring writing guide.
Big Magic: Creative Living Beyond Fear — Elizabeth Gilbert, of Eat, Pray, Love fame, offers advice on creativity that manages to be both lofty and down-to-earth at the same time.
Still Writing: The Pleasures and Perils of a Creative Life — This jewel of a book arose from Dani Shapiro's brilliant blog on writing, Moments of Being. If Shapiro's voice speaks to you, check out her Facebook series on writing, Office Hours, where she answers questions on writing from viewers.
Those are just a few of my favorites. For even more book recommendations, try:
100 Must-Read, Best Books on Writing and the Writer's Life
WEBSITES
The Write Life — Make this site your first stop, because every year The Write Life publishes a list of the 100 Best Websites for Writers. This is your jumping off point!
Beyond Your Blog — If you're eager to try publishing, this site will show you how to get started, with tips from editors and an extensive market list, with plenty of outlets that are open to beginners. Site creator Susan Macarelli has stepped away and is no longer updating the info, but there's still plenty of helpful and relevant material here.
Poets & Writers — If you're interested in MFA programs, conferences and residencies, you'll find info about all that and more here.
Writer's Digest — There's a reason they've been around forever. The Writer's Digest site connects you to their magazine content, plus conferences and retreats, online classes and more.
PODCASTS
#amwriting with Jess and KJ — #amwriting offers practical tips on how to make writing happen. New York Times columnist KJ Dell'Antonia and Jess Lahey, author of The Gift of Failure, share their secrets of success, talk candidly about their struggles, and discuss their favorite books.
The Beautiful Writers Podcast — my friend Linda Siverstsen interviews some of the biggest names in the book work, including Terry McMillan, Glennon Doyle, Mary Karr and Martha Beck. Inspirational and real at the same time.
Also check out:
20 Inspiring Writers Podcasts to Subscribe to Right Now
In my next post, I'll talk about writers' conferences, retreats, and groups.