I love writers' conferences. My grandmother bought me a ticket to my very first writer's conference back when I was in my mid-twenties —  her way of both supporting my career aspirations and encouraging me to get out of my apartment and maybe find a husband! Grandmother had no idea that men tend to be scarce at these gatherings, but thanks to her, I did discover that hanging out with folks of any gender and orientation who are as passionate about writing as I am feels pretty great.
Last month I attended the VORTEXT conference on Whidbey Island for the second year in a row. Organized by the nice people at Hedgebrook, VORTEXT offered a superstar faculty line up including Dani Shapiro, Hannah Tinti, Ruth Ozeki, Natalie Baszile, Rahna Reiko Rizzuto, Laurie Frankel, and Kate Gray. Every single one of these ladies delivered an inspiring keynote address that both made me cry and made me want to write  and write and never quit.
VORTEXT is only for women writers, which may account for the extra caring, super supportive energy crackling in the air. I spent a lot of time with a couple of friends I made at the 2015 conference: Rebecca Wallwork, author of Hangin' Tough, a fun book about The New Kids on the Block, and the very witty Kira Jane Buxton, whose McSweeney's pieces probably landed in your Facebook feed if you have the right friends. Here we are: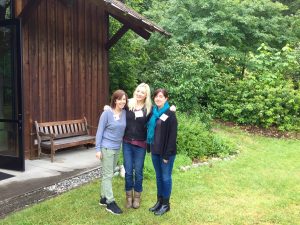 In addition to the faculty keynotes, there were writing workshops, panel discussions, and an open mike for attendees. Rebecca, Kira, and I forced/encouraged each other to read. Unbeknownst to me, Kira taped my reading and sent the video over after the fact with a note to put it on my website, but so far I'm technically challenged. We'll have to save that video for another post.
For now, here's a little something I wrote during my workshop on "Mystery and Necessity" with Kate Gray. She gave us a prompt — "If I could tell you…" and the room filled with the sound of  ink scratching on paper.
If I could tell you that it would be all right, I would.
But I can't.
There are no guarantees. But I can tell you this: your life will be beautiful. Beneath the pain, beneath the struggle, beneath the words, beauty lives.
You are here, which means you get the fleeting joy, the moment of understanding, the flash of love. You are here, and you get to have it all if you open your eyes — the pain, the struggle, and the love.
Whatever you have right now, wait. Something else will arrive soon, neither too early nor too late, but perfectly on time.
You are here with the trees and the rocks and the ocean and the wind. You are here with the birds and the squirrels and the snakes and the dogs.
You are here. The trick is believing that's enough.