In my last post about finding a literary agent, I talked about compiling your list of targets. Once you've developed a list of 15 – 30 agents you're interested in (and yes, I think you should create a list that long), you can start drafting and/or polishing your query.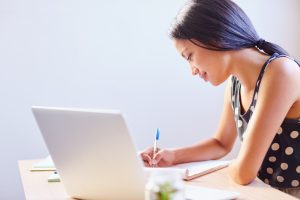 I suggest doing some separate research on how to write a query letter. I'm not going to offer a complete how to, since there's already tons of info out there. You'll find query writing tips in many of the same places I recommended for finding agents' names: articles in Writer's Digest and Poets and Writers; literary agent blogs and websites; YouTube tutorials; and samples on author websites. Be sure to google "query letter" + your genre i.e. "query letter narrative nonfiction," "query letter YA novel," "query letter historical romance" etc to find the most relevant samples.
For me as a memoirist, this post from writer Alexis Grant, in which she shared her travel memoir query proved very helpful:
Example of a query that worked
I don't know Alexis — I just found her blog via search engine — but I give her some credit for my successful agent search because of her sample intro paragraph:
"I'm seeking representation for my travel memoir, [Withholding Title to Surprise You Later]. I'm querying you because [personalize here for agent…]"
I really loved this straightforward approach, and the reminder to PERSONALIZE THE QUERY. This is so important — don't we all want to feel special and chosen? Of course we do! Agents are no different. Here are a few query intros I actually sent, using Alexis' template:
I'm seeking representation for a memoir provisionally titled [Also Withholding My Title Like Alexis Did]. I'm querying you because, many years  ago, when this memoir was still just an idea, I met [Editor] at a writers' conference when she was still with William Morrow and she advised me to query you with this project when I was ready. It's taken quite a long while, but here I am.
I'm querying you because you represent [Super Famous Writer] and I'm a longtime fan. Also, you've said that you wish that you'd agented WHERE'D YOU GO, BERNADETTE? and I wish I'd written that book! Finally, I suspect that my book may align with several of the editorial interests you've highlighted on your website.
I'm querying you because you've expressed interest in voice-driven work as well as books strongly rooted in their setting, and I feel that my memoir aligns with those preferences.
I'm querying you because of your track record in publishing, and also because of this blog post that I found, which indicates that you advise writers to seek out agents who possess "humility and a willingness to be wrong." I found that refreshing. Also, your client [Debut Novelist] told Writer's Digest that you're easy to talk to, which is so important — and you've obviously helped her forge a successful career!
None of the above agents ended up signing me, but two of them requested and  read my material promptly. The other two sent personal and friendly rejections explaining why they didn't have time to read or represent my work right now. Finally, here's the intro I sent to Bonnie Solow, who is now my agent:
I'm querying you because your name came up in a discussion of great literary agents in an online networking group I frequent. Also, your website indicates that you're interested in memoir and cultural studies, and my book touches on both categories.
There are other ways to structure your query, of course — fiction writers may want to drop the agent right into the plot of the novel, and nonfiction writers might choose to grab the agent with a startling fact — but I think you can't go wrong by simply saying "I'm querying you for a specific reason because I'm a professional who does her homework." (And it doesn't hurt to be more succinct than I was in a couple of those cases, either, but note — I got positive responses despite imperfection.)
Now, here's an element I included in my query I haven't seen recommended by anyone else:
I included links to a couple of my published essays that related to my memoir as part of my bio section, like this:
My essays on parenting and family have appeared in print and online at Adoptive Families, Brain, Child, The Sun, Redbook, Good Housekeeping, The New York Times, and many more publications. I've written humor for Scary Mommy, McSweeney's Internet Tendency, and espnW, parenting advice for Esme and Parenting.com, and I'm a frequent contributor to The Kitchn, a food/cooking site. Here are a couple of recent essays I've published that relate to the subject of the memoir:
White Rice: a Love Story, at The Kitchn
Is she happy? Is she loved? Remembering the girl who was almost my daughter, in On Parenting at The Washington Post and also recorded for Audible
My thought was that maybe a busy agent or agent's assistant might click those links, enjoy my writing style, and thus be more inclined to request my proposal and/or partial manuscript. Clicking a link wouldn't cost the person reading my letter much time, and if they disliked the essays, they didn't have to bother requesting more material. I think the key here is to include links that are directly relevant to the project you're pitching. The most popular pieces I've written are my Scary Mommy posts, but to link to them here wouldn't have made sense, since the memoir I'm pitching is more of a heartbreaker (though I did highlight the popularity of those posts in my book proposal.)
My final bit of advice about query letters is to take time to personalize them at the end of the letter too. Many agents like to receive a sample of your project with the query itself, so I always specified what I'd enclosed and why. This is another opportunity to show that you're a careful, savvy pro. Here's a few actual samples:
I've attached my proposal here, in accordance with the guidelines on your Publishers Marketplace page. Please let me know if you'd like to see the partial manuscript as well. Thanks so much for considering my work.
I've pasted the first ten pages of the memoir below, in accordance with the guidelines on the [literary agency's] site. Please let me know if you'd like to see the proposal and/or the partial manuscript as well. Thanks so much for considering my work.
And for agents who didn't specifically ask for samples, I tucked them into the bottom of my email anyway, below the signature line!
I've pasted the first ten pages of the manuscript below for your quick review, should you be interested. Please let me know if you'd like to take a look at the proposal and/or the partial manuscript. Thanks so much for considering my work.
What did I have to lose if an agent glanced down and liked what she saw? Finding an agent can take MONTHS. I'm not getting any younger so I tried to gently push the envelope.
I apologize for not sharing my complete query here, but I want to keep some details about my book under wraps until my agent and I have taken it out on submission to editors, but I hope these tips on personalizing the query will help in the meantime.
I'm getting ready to take off on a two-week writing residency to prepare my book to go out to publishing houses, so I may defer my next post on finding an agent until I return mid-October. Sign up for updates to make sure you don't miss the next installment, when I'll talk about strategy: How do you know if your query is working? How many agents should you query at once? How long should you wait for a reply? And how do you keep yourself from going crazy during the process?????